Bottled Up:     How to survive living with a problem drinker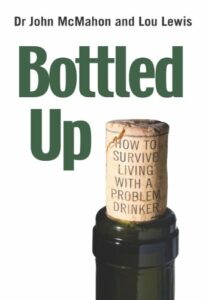 Hazardous drinking in the UK is widespread: 1 in 4 according to
a recent government survey. More severe 'alcohol dependence' affects nearly 6% of the UK population – that's
1.8 million people. But for each alcoholic there is usually at least one family member- estimates suggest that at least 3 people per alcohol abuser suffer on this account.
The loved ones of alcohol abusers are a neglected group, and this book is aimed at equipping them to care for themselves so that they can survive the difficulty before them. Written by a husband-and-wife team of an alcohol abuse expert and former alcoholic (John) and a former wife of an alcoholic (Lou), this helpful book is not only academically sound but also written with an empathy that flows from experience.
Aneta
5.0 out of 5 stars Amazing book
Reviewed in the United Kingdom
Verified Purchase
Amazing book and help me so much to make my life more manageable. Highly recommend!
The Daily Mail (UK) published an article about the Bottled Up book when it was originally published.   You can read this article here.
We were also privileged to have had Bottled Up reviewed in one of the leading academic journals – Alcohol and Alcoholism.  On the whole, the review is very positive but, like most academics, they would have liked a bit more research evidence.  However, in our defence, we wrote the book as a self-help book for a lay audience, not as a text book.  Nevertheless, the reviewer did say that she would recommend it, which is a real coup from a clinician writing in an academic journal.