Do you live with a problem drinker?
Do you feel alone, isolated and ashamed to talk about it?
Do feel you are going crazy when he swears he has not been drinking – even though you can smell the booze?
Are you scared to invite anyone home in case she is drunk?
Have you stopped having social evenings in your house in case she drinks too much?
Are you worried about leaving the kids with him in case he gets drunk?
Are you frustrated with your life and want change?
If you can answer yes to any of these questions then we can help.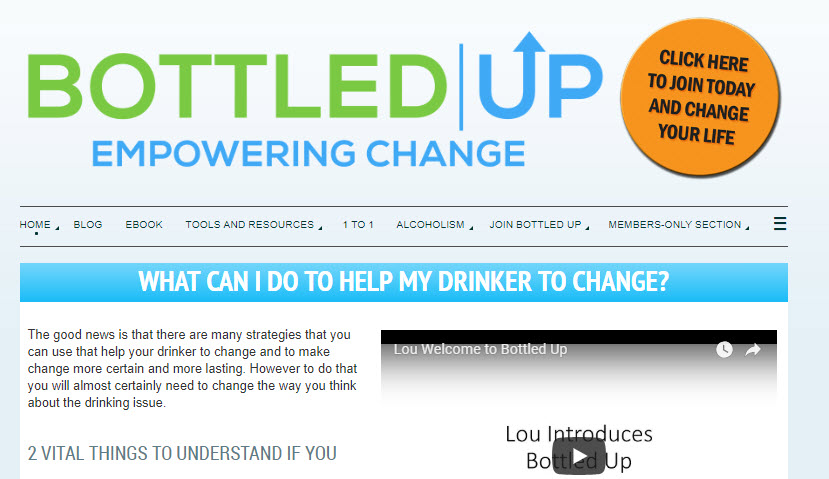 You are not alone.  Recent statistics in the UK suggest that 1 in 13 people could be diagnosed as alcoholic, and that they affect others, for example 3.7million people are affected by parental alcoholism and 1 million by their partner's alcoholism. Despite these numbers there are no services for families of alcoholics.
Partners and family members often feel ashamed, isolated, alone, confused, frustrated and angry with nowhere to turn and no one to share with or support them.  For these reasons we created Bottled Up.
Bottled Up offers family members support and information. It is designed to help the families of heavy drinkers to help themselves.
Lou Lewis is a counsellor, a classically trained musician, singer songwriter and speaker. Her autobiography, No Easy Answers, became a standard text for counsellors, and their clients, on overcoming abuse. She has firsthand experience of living with a problem drinker for many years.
Dr John McMahon has been a counsellor, therapist, researcher and wrote and taught on the UK's largest MSc course on alcohol and drugs. He has published around 50 journal papers and book chapters and has built an award winning website to help problem drinkers help themselves. Thirty years ago he was hospitalised for alcoholism and given 6 months to live, but has been clean and sober since.
Between them they bring a unique perspective to the topic, a marriage of experience grounded in science.  However one of the great strengths of the website is that the experience of both sides of the issue, partner and drinker, are revealed in stark honesty.